Description
Some of them were left without the help of the state and its institutions, deprived of their rights; some experienced violence from uniformed services that continuously violate basic human rights. Some were scared and chased by dogs, or even beaten and tortured. Others were threatened with weapons, forced to walk straight into barbed wire and into the cold river. Some of them reported rapes. The number of deceased and missing migrants on the Polish-Belarusian border is constantly growing.
What we do and who we are
For almost a year, the whole responsibility for helping refugees on the Polish-Belarusian border lies on the shoulders of local residents, volunteers and a few non-governmental organizations. Grupa Granica (the Border Group) is an informal coalition that brings many of them together and actively supports providing humanitarian aid.
We do not divide refugees into the "better ones" and the "worse ones" – for almost a year we have been providing humanitarian aid regardless of one's country of origin, skin color or gender. Refugees on the Polish-Belarusian border are cheated, beaten and robbed, and often find themselves on the verge of physical and mental endurance. Many of them get sick, and at the same time – for a good reason – they are afraid to reveal themselves to the services and ask for help. They are afraid of the violence that they can experience from the side of Belarusian services, but also from the Polish Border Guards, who keep on committing illegal push-backs.
Since the beginning of the humanitarian crisis until July 2022, more than 11,000 people have reached out to us asking for help. We managed to support more than 8,000 of them, including at least 1,000 children.
Today we already know that the humanitarian crisis unfortunately won't end in the upcoming months. Apart from providing direct humanitarian and medical aid in the forests at the border area, we also provide legal help with applications for international protection, and we help with the search for missing people. We support those who are locked in prison-like guarded detention centers for foreigners – they are often deprived of their basic rights. We constantly gather and share verified and reliable information on the situation at the border; we document human rights violations and help with explaining legal issues. We also monitor and document key events connected with the topic of our work.
All this would not be possible without your huge support! We still need it, as there are literally no signs saying that the violence at the border and the humanitarian crisis will end soon. At the same time, we constantly call on the Polish government to humanely resolve the crisis on the border and to de-escalate violence.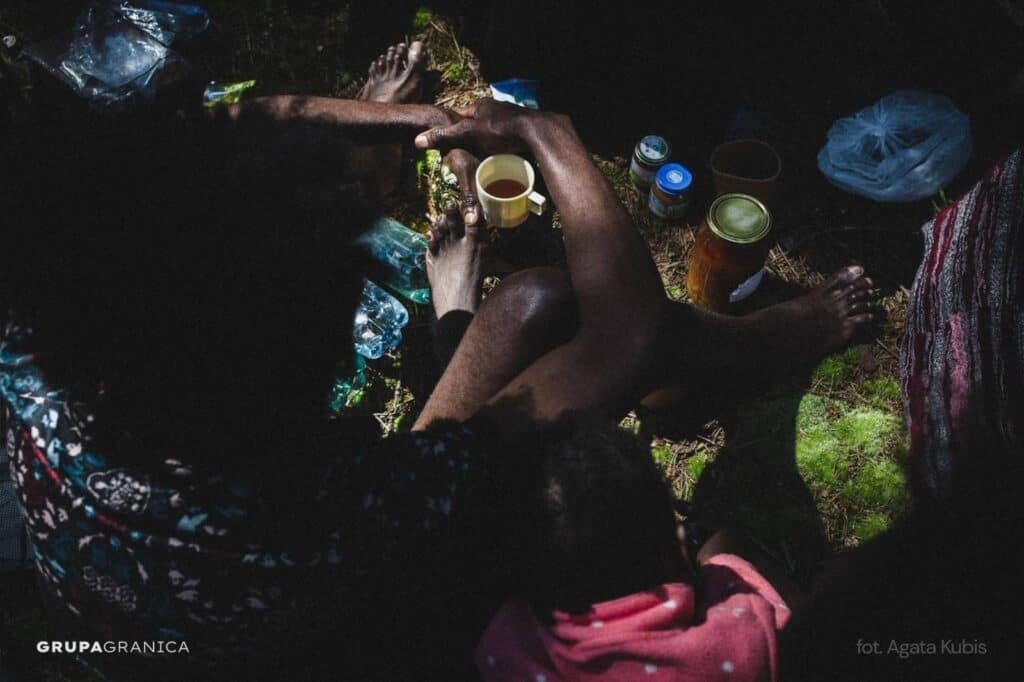 How we spend our funds
We spend it on:
– food, water, medicines and clothes, sleeping mats, thermal blankets and powerbanks provided to people trapped in border area forests;
– equipment that enables us to provide medical aid and often save the life and health of refugees;
– fuel needed during the interventions;
– daily activities of those who work in the field and those who work at desks, e.g. providing legal assistance, psychological support, work of several dozen translators and also many different educational activities.
Why your help is so important
Each donation increases the chances of providing effective help to those who need it most. Let's show together that there's nothing illegal in helping others, and that when it comes to providing help to those who need it most, there should be no boundaries. It is violence that is a crime, and turning a blind eye on it just makes authorities and their subordinates continue breaking the law.